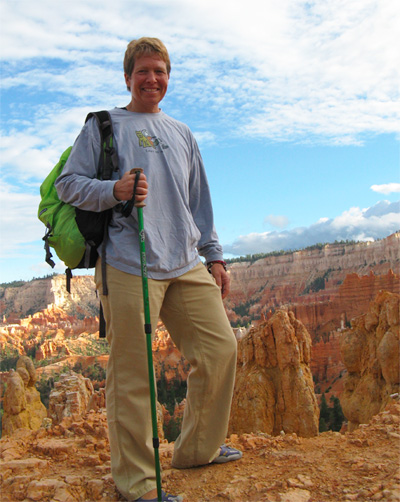 My Practice
I began my Massage Training in 1995 at the Mt. Nittany Institute of Natural Health. I have training in numerous modalities such as, Swedish, Polarity, Neuromuscular, Shiatsu, Reflexology, Connective Tissue, Sports Massage, Reiki, and Infant Massage Instruction.
I have a holistic approach to massage and focus on the entire body and its senses. I have a warm, energetic, and playful personality which comes through in my work, aiding in the relaxation aspects and overall effectiveness of the process. My massage tends to be thorough and flowing, utilizing a variety of techniques to relax and encourage the body's own healing.
In 1997 I was introduced to Jin Shin Jyutsu®, by a client who had relocated to State College from California. Jin Shin Jyutsu immediatley resonnated with me and I began my studies into this Art. For a number of years I was the sole Jin Shin Jyutsu® practitioner in State College, fortunately the number of practitioners in the area has grown since I began organizing seminars. I also have a bachelor of Science degree in Psychology from Penn State University.
My Practice Specializes in Jin Shin Jyutsu®, Relaxation Massage, and On-Site Chair Massage to Businesses.
My Philosophy
My goal is to empower, encourage and facilitate my clients to participate in attaining and maintaining health, harmony and well-being.
My Other Interests
In addition to being a Massage Therapist and Jin Shin Jyutsu Practitioner, I enjoy wood working, bicycling, ballroom dancing, and agility training with my dog.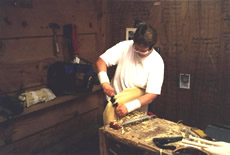 Hand carving the seat for my rocking chair at chair camp.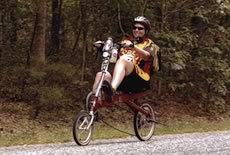 Riding the M.S. 150 City to Shore.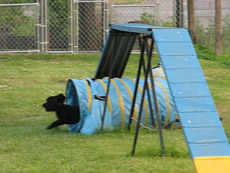 Sydney popping out of the tunnel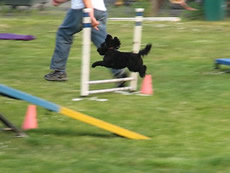 Sydney flying over a jump
Personal Growth
Challenging my self physically, emotionally, and spiritually is a passion of mine.